Back to all posts
Posted on
One Million Children Praying the Rosary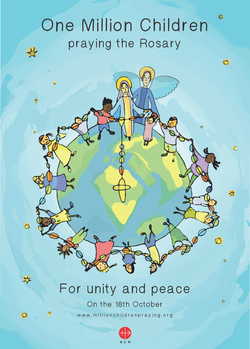 October 18, we will gather in the gym at 3:00
The main aim of the prayer initiative "One Million Children Praying the Rosary" is to show that the trusting prayer of children can fly like an arrow straight to the heart of God and therefore has such great power. The worldwide common prayer of the rosary by children brings many graces upon the world and is a great blessing for families and the Church.
Why on the 18th of October?
October is for the Church in a special way the month of the rosary. On the 18th of October, we celebrate also the feast of Saint Luke the Evangelist. It is he who has handed on to us the story of Jesus's childhood and, according to tradition, he was closely associated with Our Lady, the Mother of God. So, this is a very appropriate day.
Why are we praying the Rosary?
As Pope St John Paul II wrote in his Apostolic Exhortation on the rosary, "The rosary is by its nature a prayer for peace since it consists in the contemplation of Christ, the Prince of Peace, the one who is "our peace". The rosary is also a prayer for peace because of the fruits of charity which it produces. By its nature as an insistent choral petition in harmony with Christ's invitation to "pray ceaselessly", the rosary allows us to hope that even today, the difficult "battle" for peace can be won."
We will be praying the Luminous Mysteries as directed by the organization.
We will sing 3 decades of the Rosary and pray 2 decades.