Back to all posts
Posted on
School Bus Safety Poster Contest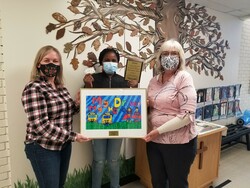 Every year ASTAC (Alberta Student Transportation Advisory Council) runs a safety poster contest across the province for all Kindergarten to Grade 6 students to participate in. 
This year's theme was "My Driver, My Hero".

School divisions across the province have their students participate in the fun of the art and also to review safety protocols involved with riding a school bus.

This year's Honorable mention winner attending St Martins in Gr 5 is our very own Oghenemine Okoro.  We are so proud!