Counselling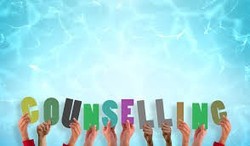 The counselling team at our school consists of Tara Lawrance as the school's Teacher/Counsellor and Katherine Seymour the Family School Enhancement Counsellor.
We are also very lucky to be working with Rania Paige this year as part of our team from Alberta Health Services.
We are here to help ALL students be successful in our faith-filled environment, socially, emotionally and behaviourally so they may access their education without barriers.
Here's what we'd like you to know about us:
Each of us are only ONE part of the team that works to help your child succeed.
We will be working to get to know ALL students so they may feel connected and safe while they are with us.
We respect your right and your child's right to privacy. Confidentiality is a paramount part of our jobs.
Please feel free as parents to reach out to ask questions or share concerns, as well as, to share positive things about your child.
We are looking forward to helping your children along the path of becoming respectful and responsible citizens.
Teacher/ Counsellor Role (Tara Lawrance):
Classroom Lessons- I will visit all grades to teach social-emotional skills such as feelings, communication, problem-solving etc. dependent on the needs of the group.
Small Group Counseling- I will facilitate small groups of students who need a little extra support in certain areas.
Individual Support- I will work with students short term to work through problems and provide strategies with issues affecting them at school.
Consultation with Staff/ Parents- I am available to meet/ talk with teachers and parents to help support students and provide resources and education about issues affecting children.  
Family School Enhancement Counsellor Role (Katherine Seymour):
I will provide in-home support for families dealing with social, emotional, or behavioural issues; making appropriate referrals to outside agencies.
I will assist in strengthening parenting skills/strategies.
I will act as a liaison between the family and the school and/or community.
I will help families in reaching out to community resources/agencies.
Alberta Health Services (Rania Paige):
The approach that works best in school-based prevention is one that builds capacity, is comprehensive and multi-layered. I will coordinate activities that involve students, school staff, parents and community partners and reflect the priorities of the school community.
In collaboration with school partners, I focus my work on:
In-class and out of class learning focused on addiction prevention and mental health promotion
Training opportunities for parents and school staff focused on prevention and promotion
Activity development about making healthy choices at school and home
Resources associated with mental health promotion and addiction prevention